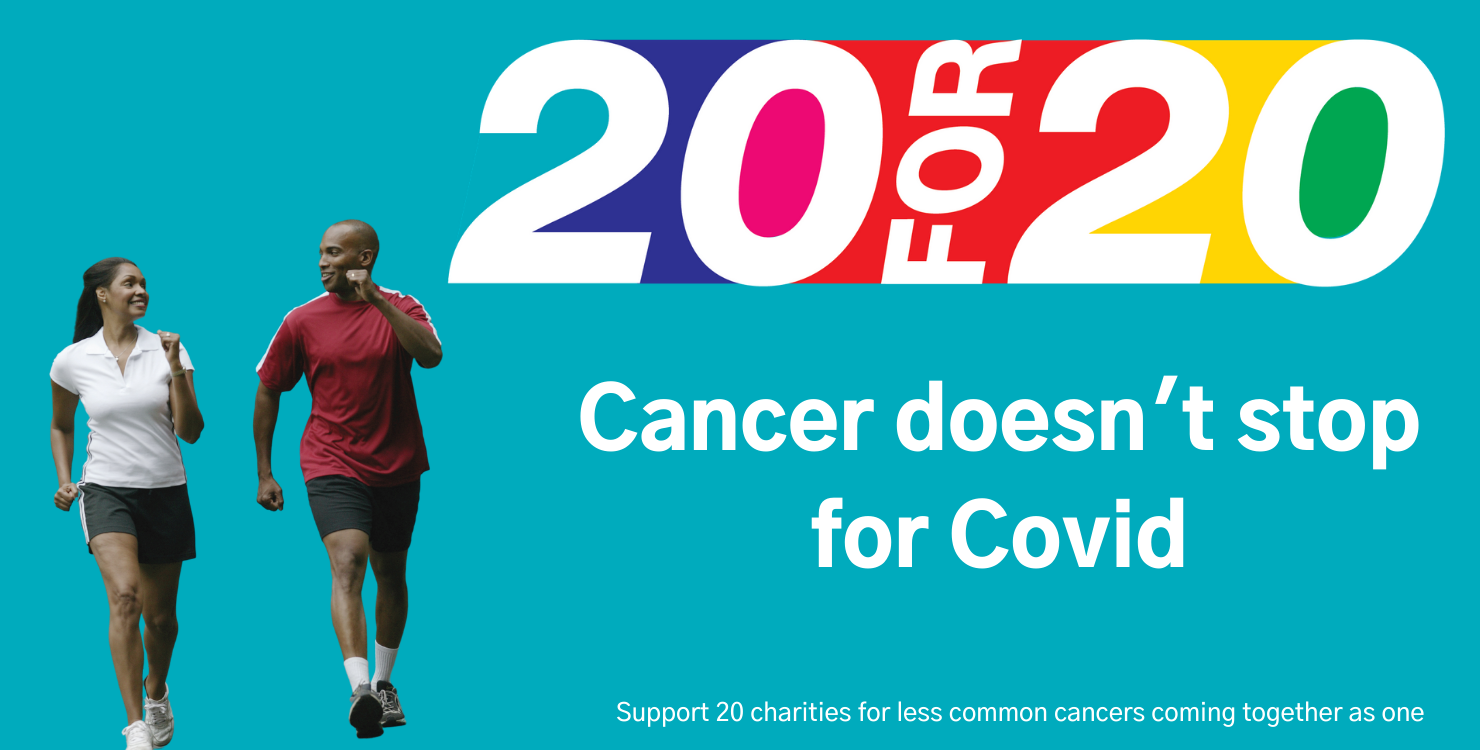 Impact of Covid-19 on Brain Tumour Research
Covid-19 has represented a £1 million loss of income for Brain Tumour Research. We receive no Government funding; we are reliant on donations. The coronavirus pandemic has severely impacted our ability to fundraise through mass participation events and gatherings, such as the London Marathon. As a medical research charity, we were also not eligible for the Government's £750 million support package.
The impact of Covid-19 has left us facing an unprecedented challenge, putting life-saving research at risk with the potential of progress made so far being lost.
Brain tumours are indiscriminate; they can affect anyone at any age. What's more, they kill more children and adults under the age of 40 that any other cancer. Around 16,000 people each year are diagnosed with a brain tumour, and only 12% of brain tumour patients survive beyond five years of their diagnosis. Yet historically just 1% of the national spend on cancer research has been allocated to this devastating disease.
Brain Tumour Research is the only national charity in the UK that is dedicated to raising funds for continuous and sustainable scientific research into brain tumours at our UK Centres of Excellence. We are a leading voice calling for greater support and action for research into what scientists are calling the last battleground against cancer.
We cannot afford for research into brain tumours to be left behind nor to lose the progress that has been made so far. Please take part in 20 for 20 and help us continue to fund the fight against brain tumours.
Together we will find a cure.
Impact of Covid-19 on Children's Cancer and Leukemia Group
COVID-19 has dramatically impacted our fundraising. This means less income, and less funds for crucial research into childhood cancer for the foreseeable future.
Fewer lives saved.
To continue changing the futures of children diagnosed with cancer, our world-class research is key. We are still dedicated to finding better, kinder treatments and developing our understanding of childhood cancer, but can only do so with the right funding.
Help us shape a future where all children with cancer survive by continuing to drive forward improvements in childhood cancer.
The need for our work doesn't stop – not while childhood cancer doesn't either.
Please, don't let COVID win.
Impact of Covid-19 on DKMS
DKMS is dedicated to the fight against blood cancer through recruiting blood stem cell donors and providing second chances at life.
Due to the covid-19 pandemic we've seen a significant drop (49%) in people registering and taking that first step to become potential lifesavers.
At any given time around 2,000 people in the UK are in need of a blood stem cell transplant and with the number of people diagnosed with a blood cancer expected to raise – this need has never been greater.
If you're aged 17-55 and in general good health you can register for your home swab kit. If you're not eligible or you're already registered, why not check the other ways to get involved in the fight against blood cancer or help us cover donor registration costs?
Impact of Covid-19 on GIST Cancer UK
During the pandemic GIST cancer patients have experienced an increase in anxiety as they struggled to cope with the trauma of living with both cancer and the threat of COVID19. GIST cancer patients are naturally vulnerable and as a result have had to stay isolated /shielded while trying to unravel often conflicting and confusing messages regarding their cancer treatments. Some have seen their surgery cancelled indefinitely while others have had their treatments interrupted unnecessarily. Simple things such as a blood test have now become a major exercise to accomplish!
During this time GIST Cancer UK has seen increased volumes of calls, emails and queries from patients looking for help, advice and reassurance. For example calls from a mother whose seven year old daughter was diagnosed with GIST cancer and having surgery at the height of the pandemic in a location where the doctors did not have specialist GIST experience.
As the demand for our services increased we have seen a dramatic fall in our income. Our major income generating event "Ride London" which last year raised just short of £13,000 to support our activities has been cancelled as have individual fundraising events e.g. sponsored walks, coffee mornings, gala balls etc.
GIST Cancer UK doesn't receive any government funding, we are solely reliant on fundraising, grants and donations to finance our support of GIST cancer patients and their carers, consequently the impact of any of these funding streams drying up is potentially devastating. 
Impact of Covid-19 on Heartburn Cancer UK
Around 22 people die every day in the UK from oesophageal cancer, the highest number worldwide.  Many are diagnosed too late for successful treatment and most don't know that there are common early warning signs they should take action on, the most common of which is persistent heartburn.
Oesophageal cancer is one of the 6 least survivable cancers in the UK, less than 12% of those diagnosed survive for 10 years.  Improving this prognosis requires early and fast diagnosis to catch the disease whilst it is still treatable.  However, at the height of the pandemic referrals for cancer investigations were just 25% of usual levels and, even now, are only at 75% of the expected rate.  This means that this astonishingly low figure is set to worsen. 
This is compounded by the fact that many people don't recognise the early symptoms meaning that our work in raising awareness is essential so that the public have the right information available.  In addition, we have received calls and e mails from those who have heard our message and who have seen their GP but who live in fear of having oesophageal cancer but can't access the required investigations due to the impact of Covid-19 on the health service and the risk to staff that the procedures entail.  This affects mental as well as physical health of individuals and their families.  Our work, both in raising awareness and in providing support has become more important than ever but public donations have reduced (down over 90% in the first 2 months of lockdown) fundraising events have been cancelled and our plans for two large outdoor awareness campaigns reaching 4 million people during 2020 are on hold. 
Jean is one of many who contacted us during lockdown. She had been given our phone number by a nurse at Addenbrookes hospital as she had a number of questions and concerns.  Following our conversation Jean fed back:
"I just don't have the words to explain what a difference you have made to me today, thank you just isn't enough.
For the first time in so long I don't feel like a list of problems being examined, I feel like a person. I finally understand what has been causing the pain and what the medication does. Before I spoke to you, I just didn't know what I would do if you couldn't help me, but you have made the future seem hopeful – Thank you so very, very much"
We know that if the public have access to the right information then 59% of oesophageal cancer cases would be preventable, however, it remains the 7th biggest cancer killer overall and the 4th biggest of men - with these figures set to worsen as a result of the pandemic.  Any donation, large or small, will have a direct effect on our ability to provide support, raise awareness and save lives.
Impact of Covid-19 on It's in the Bag
Since Covid19 pandemic things for our charity have been very different, as we meet so many people when raising awareness and attending fundraisers. It has also dramatically affected the hands on support we give at our survivorship Toolkit Days and Personal Development weekends, both of which have been put on hold. However, we have been able to continue to give out travel grants and this is what Graham had to say about that:
I'm the general manager of a leisure centre and swimming pool in Wells Somerset operated by Fusion Lifestyle so have access to some facilities as part of my job. Once this is all hopefully over and I'm back to work I'm keen to do something sport related to try and raise some funds. Probably be in the new year now but will keep you posted. Any input would be welcome :) we have a decent platform so may be some good PR too? I'd have to run anything past my employer first.
In these difficult times it was amazing to find a charity continuing to provide accessible support to people in my situation. Worried about employment uncertainty, my diagnosis and the potential both could have on my capacity to support my family it was so reassuring that my the financial impact of getting to and from my cancer treatment was simply taken care of. Thank you.
Impact of Covid-19 on Lymphoma Action
'I was diagnosed with Hodgkin lymphoma in July 2019, and had finished my last course of chemotherapy treatment just before the start of the UK lockdown due to COVID-19. However, once the lockdown started I felt like I'd fallen off a cliff. I was so used to the routine of seeing my incredible cancer nurses and speaking to my consultant whenever I had questions. There are things that I would like to discuss with my GP and oncologist which are so much easier to talk through by seeing them face to face, but at that point I felt I couldn't even go the hospital if something was wrong through the fear of catching COVID-19. 
This is where Lymphoma Action have stepped in to fill that void of support. When the twelve-week shielding period was announced for people like myself at high risk of severe illness from COVID-19, I initially found the information a little ambiguous. However, I knew the first place that I could go to for clarification was to Lymphoma Action's website, and I knew that if I picked up the phone to their helpline that someone will be there to support me too.
I have also recently joined the charity's UK wide support group on Facebook, Lymphoma Action Support UK. Being able to connect with others in a similar situation has been so helpful. People can share information and tips about coping with the current situation, as well as their thoughts and emotions about their diagnosis. It is also a place to go to generally have a good chat, which is so important whilst local face to face support groups are not running. I feel I am still surrounded by a number of people who all know the sort of journey that I have been on and what's to come.
I can never thank Lymphoma Action enough for the help they have given me. I remember sitting in the doctor's room, nearly a year ago now, hearing the words 'you have cancer' and I was handed Lymphoma Action's book about Hodgkin lymphoma. From that day, the charity has been the most incredible support system and it continues to be - now more than ever.- Elspeth
Impact of Covid-19 on MDS UK Patient Support
Covid-19 has seen some of our patients have their treatment plans postponed or cancelled. Ted Peel, our Chairman was due to have his vital stem cell transplant in the Spring but was told it was too unsafe for him to be admitted to King's College Hospital, which was making provisions for Covid19 patients. Stem cell transplants are often the only cure for MDS patients despite their inherent risks. It has been a terrifying waiting game for Ted, who was faced with uncertainty and a deterioration of his symptoms including painful ulcers and fatigue. His Grandson, Romain is also due a transplant for his blood cancer in what is a unique situation that links to familial (inherited) blood cancers.
Fortunately, Ted was told at a more recent consultation in July that he will be admitted to hospital promptly because Covid19 cases in London have decreased. While both Grandfather and Grandson are about to embark on their transplant journeys, MDS UK wishes to raise more funds to ensure treatments are more readily available and other patients and their families do not have to go through such a difficult time.
MDS UK has also seen a huge rise in demand for our services, including calls to our helpline from patients worried about how they can best keep safe during the pandemic. Simultaneously, funding has decreased due to the cancellation or postponement of the events we rely so heavily on for income. We urgently need more support so we can continue to provide life-changing support for MDS patients and their families through Covid19 and beyond.
Impact of Covid-19 on Mesothelioma UK
Covid-19 has changed the mesothelioma community.  Our fundraising was greatly reduced as events were cancelled. However, Mesothelioma UK Nurses developed flexibility in a crisis to make services run safely.  They were able to facilitate alternative care and support pathways to be put quickly into action. Some nurses were redeployed to Covid-19 intense facilities.  Achieving solutions to problems enabled our Mesothelioma UK Clinical Nurse Specialists to forge ahead and provide a constant when some patients felt uninformed. They provided telephone and video consultations plus virtual support groups for  many patients and carers who were unable to be seen face to face.
Impact of Covid-19 on Myeloma UK
Myeloma UK saw a 249% rise in demand for information and support services as a result of COVID-19 as all myeloma treatments were postponed or changed and clinical trials suspended throughout the UK.  Myeloma UK has diverted additional resource to our frontline information and support services, created the COVID-19 Information Hub, and continues to campaign on access to treatment and care on behalf of the 24,000 extremely clinically vulnerable myeloma patients adversely impacted by the restrictions on cancer services as a result of the pandemic. 
Impact of Covid-19 on Pancreatic Cancer Action
Receiving a pancreatic cancer diagnosis is devastating. Sadly, only 7% of those diagnosed with the disease will survive 5 years or more. Whilst we have seen vast improvements in other cancers survival rates this can not be said for pancreatic cancer which have remained between 2-7% for over 50 years. This has to change.
In light of the Covid-19 pandemic, pancreatic cancer patients and their families need us more than ever. Access to surgery and treatments such as chemotherapy has reduced during the pandemic. Pancreatic cancer has been particularly affected due to the specialist level of surgery, high intensive care need and infection risk and surgeries for these patients at the peak of the pandemic reduced to almost zero.  
Pancreatic Cancer Action is working with the NHS, government groups, other charities and organisations across the UK to advocate for patients and our voices are being heard.   
We are determined to make sure that more people survive pancreatic cancer and as long as we exist as an organisation to carry out our vital work; raising awareness of the signs and symptoms, working with medical professionals to aid diagnosis and treatment pathways and carrying out innovative research strategies; we can work towards a day when everyone diagnosed with pancreatic cancer will survive.  
We cannot thank you enough for your generous support, now and in the future. Thank you.  
Impact of Covid-19 on Sarcoma UK
Isobel was diagnosed with synovial sarcoma, a type of soft tissue sarcoma, in February 2020 when she was 12. She was sent home from school due to the pain in her leg and was diagnosed with sarcoma around 2 weeks later. She has received chemotherapy and surgery, including an amputation of her leg as part of her treatment.
Isobel has always been a keen swimmer and continues to swim whenever she can, saying it's a really freeing experience.  She's currently getting ready to return to school.

Her mum, Samantha Sheppard, has shared her experience with her daughter's rare cancer:
'Isobel started complaining of numbness in the top of her right leg sometime between Christmas and New Year but we thought it was growing pains. She did have some swelling in her leg which I thought was most likely from a previous injury.'
'A few days later she started limping a bit and I still didn't think it was anything too serious, she was 12 and to be honest, I thought she might just be putting it on a bit. Shortly after she rang home from school saying she was in too much pain to keep going with her lessons so we brought her home and made a GP appointment for that evening.'
'The GP didn't know what it could be so sent us to the hospital where we went through A&E. The doctors there didn't know what it was either and by now her leg was really swollen. That's when we started to realise there might be something more to this.'
'They sent her for an ultrasound and said that it could be a blood clot so sent her up to a ward and prescribed her blood thinners. Once she was on the ward the consultant was asking all kinds of questions about what could have caused it, such was could it have been a cat scratch. No one could work out what was going on, so she was transferred to Addenbrookes Hospital for some more tests. At this point the possibility of it being a tumour had been mentioned but so had so many other things that we didn't take it too seriously.'
'At Addenbrookes Isobel had a CT scan and was moved over to Oncology and by that point we'd sort of worked out what might be happening. We were originally told it was lymphoma (a type of blood cancer) and that treatment would begin immediately. It was only after she'd had all her lines put in and was ready to go that the results of the biopsy came back and we were told they weren't sure what type of tumour it was after all.'
'A few days later we found out that it was synovial sarcoma, a type of soft tissue sarcoma. At this point there were lots of treatment options being discussed, such as going abroad to America or Germany for Proton Beam Therapy (a type of radiotherapy), as well as surgery and chemotherapy.'
'She was doing really well with chemo when we found out that she would need to have her leg amputated. It came as a real shock, but Isobel was so incredible. She kept herself together throughout the appointment and just seemed to get on with it. It was only when we got outside that she let go and allowed herself to be upset.'
'We had nearly 8 weeks to get used to the idea of it but it was still a complete shock when it finally happened. I felt numb, we'd been considering so many other treatment options that an amputation was the furthest thing from my mind.
'There was no way to save her leg. The tumour was wrapped around  her nerves and blood supply so an amputation was the only way to go.'
'Of course all of this was happening just as Covid-19 and lockdown were coming into force and that has brought with it its own round of stress. It's been really hard for me and my husband to not be able to be next to her for everything that's happened, there has been times when only one of us has been able to be on the ward with her. The main thing that it has stolen is the opportunity for us to connect as a family with other families going through this awful journey with cancer. Isobel hasn't been able to make friends with anyone in a similar situation to her and we haven't had the chance to connect with other parents of children with rare cancers. That's been hard and it makes you feel more alone.'
'We're slowly but surely getting back to normal now, or as close to normal as we can. Isobel is getting ready to go back to school this September and she's not stopped her swimming. She's been going since she was 6-months-old and she really loves it. It's so freeing to watch her get back in the water and just keep going. We're so proud of her.'
About sarcoma
·         Sarcomas are uncommon cancers that can affect any part of the body, on the inside or outside, including the muscle, bone, tendons, blood vessels and fatty tissues.
·         15 people are diagnosed with sarcoma every day in the UK. That's about 5,300 people a year.
·         There are around 100 different sub-types of sarcoma.
·         Synovial sarcoma is a type of soft tissue sarcoma – more information
Impact of Covid-19 on Solving Kids Cancer
Meet Teddy – a cheeky, funny and affectionate little boy. When Teddy was just 16 months old he became ill. He stopped crawling and his personality changed from lively and jolly to fearful. Initially doctors thought it was a virus, but in April 2018 a tumour was found in his stomach and he was diagnosed with stage 4 high-risk neuroblastoma.
"We were shell-shocked and in total denial. I remember sending a message to work to say I wouldn't be in the next day but little did I know that I would be giving it up entirely to care for Teddy as he fought for survival. We got in contact with a few other families who were being supported by Solving Kids' Cancer and they recommended the charity. Donna (part of Solving Kids' Cancer's Family Support Service) was indispensable. She made our lives less stressful and she was an amazing person to call to answer the endless questions we had." Jamie and Emma, Teddy's parents.
Teddy went through UK frontline treatment and endured a long list of treatment, including 37 gruelling rounds of chemotherapy, 14 rounds of radiotherapy and stem cell harvests.
Teddy's family were supported by Solving Kids' Cancer to raise £300,000 for Teddy's treatment. Teddy's family flew to Barcelona in January 2019 to start immunotherapy and clear any last remaining cancer cells in his body. His final scans showed the fantastic news that Teddy has no evidence of disease!
Our Family Support Service
Our Family Support Service is unique to the neuroblastoma community and supports families like Teddy's. The frontline team provides unrivalled scope and quality of support for families affected by neuroblastoma. The team blends personal experience (as parents of children affected by neuroblastoma) with professional experience and in-depth knowledge, enabling a truly empathetic, compassionate and comprehensive support service.
We know through direct feedback that our service is often a lifeline for families, helping them through some of the most unimaginably difficult times, which are currently compounded by the pandemic. The precarious fundraising environment resulting from the pandemic has put this vital service under threat and we are determined to be able to offer it in the future to every family that needs our support.